Venice — August 2005
August 28, 2005
Few people would go to Venice primarily for the food (and until recently the food has always seemed to be a reason for not going there — too much polenta and too many touristic menus).
But if you are there and needing food after a concert, there are still fairly few places of resort. The Ristorante al Teatro, immediately beside the front door of the Fenice Theatre is one possibility, and for a curious selection of early Italian recipes (17th and 18th century) Le Bistrot de Venise keeps its kitchens open until 1 am.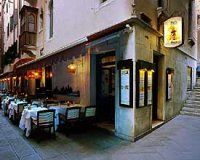 Le Bistrot de Venise Calle dei Fabbri
San Marco 4685
30124
tel: +39 041 52 36 651
fax: +39 041 52 02 244
www.bistrotdevenise.com
If your aim is to avoid places too openly directed at the tourist trade (and cheaper than the Danieli, Harry's Bar and similar) I did notice that many gondoliers seem to patronise the Ristorante da Raffaele (very close the nice small Hotel do Pozzi, only a stone's throw from St Mark's Square).
Ristorante da Raffaele San Marco 2347
Ponte delle Ostreghe
Tel: +39 041 52 32 317
www.paginegialle.it
A little further, and beyond Rialto I was taken to a very small and overlookable restaurant by the leader of the Fenice Orchestra and Andrea Marcon, called:
Trattoria Tre Spiedi
SS. Apostoli — Cannaregio 5906
tel: 041 520 8035
closed "Sunday afternoon" (i.e. lunch) and Monday
You tend to be told what you will eat and drink ("Prosecco? No, you can have white wine and mineral water!") but the food and atmosphere are excellent and completely tourist- and music-free.
Since there are so may possibilities in Venice, and half the fun is getting lost and discovering things, I would only recommend one new food guide, which is free from any commercial pressures, called (inelegantly) A Guide to the Eateries of Venice by Michela Scibilia consisting of short descriptions and pictures of places that she and her friends (including, I notice, Jonathan Del Mar) have found exceptional; also, at the end, a charming glossary of Venetian food words which are sometimes very different from "mainland" Italian.
Otherwise all you will need is J. G. Links' Venice for Pleasure, which, as Bernard Levin said, is "Not only the best guide-book to that city ever written, but the best guide-book to any city ever written"