Two concerts — three medals!
April 4, 2012
In the last few weeks, Christopher has been showered with medals after middle-European concerts! His final concert for the present season with the Poznan Philharmonic took place in Gniezno Cathedral, celebrating the 1000th anniversary of Emperor Otto III's pilgrimage to the tomb of St Wojciech. After the concert the head of the Polish Church, Archbishop Jozef Kowalczyk (who was also celebrating his birthday and 50 years of service) presented Christopher with the millenium medal of Gniezno and in addition the Papal Medal of John Paul II.
One week later, in the Budapest Opera House, the Philharmonic Orchestra enrolled him in their Golden Book (along with the signatures of Strauss, Stravinsky, Bartók, Kodaly and almost every other famous name from the past century and a half) and presented him with their 150th anniversary medal.
More of this and a special cabinet will be needed in Cambridge.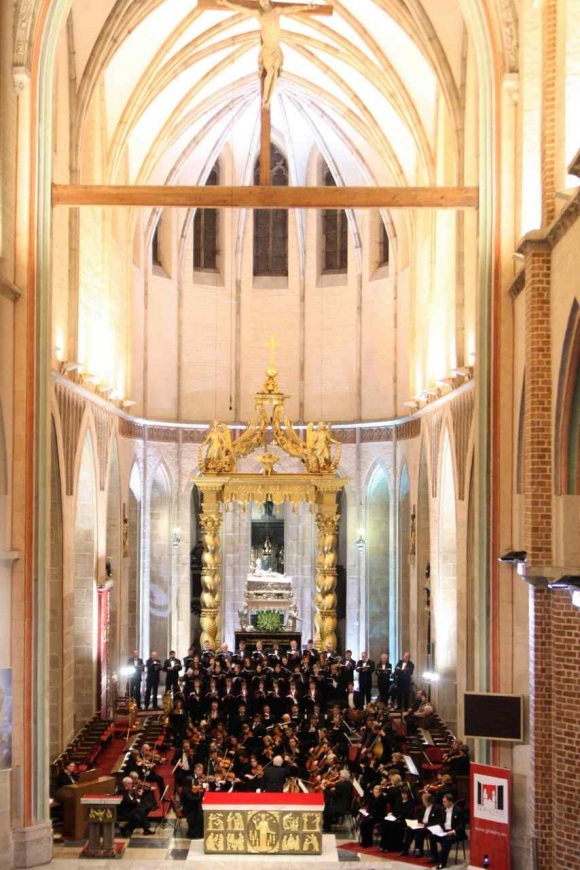 The Poznań Philharmonic Orchestra, of which Christopher is Principal Guest Conductor, opened the Gniezno Cathedral concert on 18 March with Joseph Haydn's final symphony, No.104 in D major, the "London Symphony". To perform Haydn's solemn Nelson Mass, the orchestra was joined by the Polish Chamber Choir Schola Cantorum Gedanensis, the Poznań Boys Choir and four outstanding soloists (Marta Boberska soprano, Urszula Kryger mezzo-soprano, Markus Schäfer tenor and Wojtek Gierlach bass). The works were performed in front of the magnificent backdrop of the altar of Gniezno Cathedral, which holds the lavish silver tomb of St Wojciech.
After the concert, the Mayor of Gniezno, Jacek Kowalski, awarded Christopher the medal of the 1000th anniversary of the Congress of Gniezno and the Papal Medal of John Paul II.
Photos from the rehearsals can be viewed on the Polish Chamber Choir website.