Food Counter — February 2008
February 18, 2008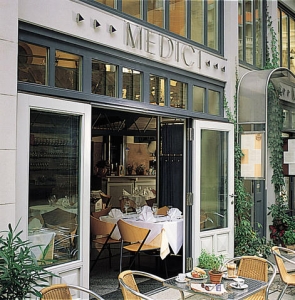 The Food Counter has been in abeyance for a while, but needs to be revived this month in order to mention the Leipzig restaurant MEDICI which provided me with almost daily meals in a quiet and civilised atmosphere for more than 5 weeks at the beginning of this year while I was working for the Leipzig Opera. It is hidden in a small quiet square beside the St Nicholas Church (one of Bach's churches, where the Christmas Oratorio was first heard), and in summer you can sit outside on the pavement.

Despite being called Medici, it deals with more than Italian cuisine (one chef is German, one from the Seychelles), has a constantly changing menu and wine-selection (by the glass also) and every day a new "Medici-Teller" which makes an excellent one-course lunch for €15. Lunch and evening menus are different, all offer a few "fusion" dishes (often spiced, or with coconut milk, or a hundred ways of serving calamaretti, of which the restaurant seems to have a uniquely tender supply).
On weekdays it draws a business and arts clientele (Mrs Masur was eating there when I first visited, several soloists from the Gewandhaus on other days, plus actors and writers), but is not overcrowded; there is an ingenious upper floor inserted into what must originally have been a very plain space. On Saturdays it attracts families (an air of Kindergarten, but not overwhelming), and if you move quickly after an opera or concert finishes, you can get there comfortably before last orders — a real surprise in Leipzig, where places tend to close early. On Sundays, alas, it is shut.
MEDICI
Nikolaikirchhof 5
04109 Leipzig-Zentrum
Tel: +49 0341 211 38 78
Fax: +49 0341 983 93 99