Stravinsky release and Vivaldi re-release
March 31, 2010
1985 radio recording finds its way to CD
In 1985 Christopher recorded Stravinksy's Pulcinella with SWR Sinfonieorchester, then based in Baden Baden. The ballet, derived from music Stravinsky believed to be by Pergolsei, was commissioned by Diaghilev and premiered in Paris in 1920. In this studio recording of the complete ballet score (rather than the more usual suite extracted from it) the vocal soloists are Arleen Augér (soprano), Robert Gambill (tenor) and Gerolf Scheder (bass). The CD also features Feu d'artifice, Strauss' Till Eulenspiegel and Ravel's La Valse, conducted by Sylvain Cambreling, and is available from Hänssler Classic (whose catalogue will as of April be distributed in the US and Canada by Naxos). It is also available for download.
Vivaldi Flute Concertos re-released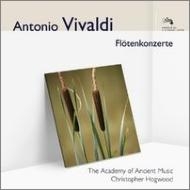 Decca have brought together a number of Christopher's 1970s AAM recordings of Vivaldi flute concertos and re-issued them on their L'Oiseau-Lyre label: the six concertos of Op. 10, with Stephen Preston, are combined with the concerto for two flutes RV 533, with Preston and Nicholas McGegan, and the concerto 'per flautino' RV 443, with Michael Copley on sopranino recorder.