Handel's Rinaldo including The Rinaldo Story
August 2, 2007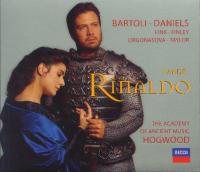 David Daniels / Cecilia Bartoli / Bernada Fink / Daniel Taylor / Gerald Finley / Luba Orgonasova / Bejun Mehta / Ana-María Rincón / Catherine Bott / Mark Padmore / The Academy of Ancient Music / Christopher Hogwood
Decca 467 087-2 OHO3

With Christopher's recording of Rinaldo winning its second award in under six months, it's time to take a look at the story which has helped to make this opera so popular across the years.
The Rinaldo story by Suzanne Aspden
In hindsight, the 1711 premiere of Handel's first opera written for London, and directed by the composer himself, seems an auspicious occasion. The cynical observations of Joseph Addison in the Spectator probably give us a more accurate view of contemporaries' response, however. In order to create an agreeable entertainment for the winter months, Addison says, 'the opera house's production of Rinaldo is filled with thunder and lightning, illuminations and fire-works; which the audience may look upon without catching cold, and indeed without much danger of being burnt; for there are several engines filled with water, and ready to play at a minute's warning' (Spectator, 6 March 1711).
Addison is also dismissive of the source from which Rinaldo was drawn, Tasso's Gerusalemme Liberata (1581), finding that one verse in Virgil is worth all the clinquant or tinsel of Tasso. Here contemporaries would not have supported him: Tasso's story of the first crusade was perhaps the most important epic of the sixteenth century, rivalled only by Ariosto's Orlando Furioso. Its initial popularity as inspiration for madrigal verse continued throughout the seventeenth and eighteenth centuries, when it was one of the most important source texts for opera, prompting nearly 100 operas and ballets. The episode featuring the Saracen sorceress Armida's love for the Christian hero Rinaldo, her bewitchment of him, his rejection of her and her ensuing fury, pursuit, and eventual reconciliation with him was particularly attractive to opera librettists, and most operas based on this story were named for the vibrant, vengeful enchantress.
Monteverdi seems to have started the process of dramatising the story with a cantata in 1626 (it is now lost). Italian operas were written on the subject in 1638, 1639 and 1641, and Lully set Quinault's Armide in 1686. Quinault's libretto, which only concerned the first half of Tasso's story, up to Rinaldo's flight from Armida, was then used as the basis for a number of mid-eighteenth-century settings by C. H. Graun (1751), Traetta (1761), Astarita (1773), and Gluck (1777). Rossini's 1817 setting also ends with the destruction of Armida's palace. In other versions, the librettists chose to continue to later encounters between Rinaldo and Armida on the battlefield, sometimes allowing the pair to reconcile, sometimes not. In Dvorak's 1904 opera, a disguised Armida is killed by Rinaldo in battle; reconciliation comes only as she dies, with her baptism. In this ending we notice an echo of the story of Tancredi and Clorinda. Similarly, the scenes between a spell-bound, besotted Rinaldo and Armida on her magical island recall the similar relationship between Ruggiero and Alcina in Orlando Furioso.
It may partly have been the tinsel Addison criticised that made this story so highly favoured. In a period concerned to found modern forms on classical precedent, opera was an irrational entertainment in which the patently unnatural prospect of carrying on a story in song could be justified by claims first for the classical origins of the practice, and then by the assertion that, as mythical or Arcadian characters probably sang for much of the time anyway, having them sing on the modern stage was allowable. John Dryden's love of the genre offered a description of opera in 1685 which accounted equally for opera's use of song and for the preponderance of scenic spectacle: 'Humane Impossibilities, are to be received, as they are in Faith; because where Gods are introduced, a Supreme Power is to be understood; and second Causes are out of doors. Opera theoretically had free reign to please the Hearing and the eye, rather than to gratify the understanding; throughout the seventeenth and eighteenth centuries in England and elsewhere there was bitter and earnest complaint that such an art form, given over entirely to sensual delights, enervated and emasculated its adherents, and propelled the degeneration of society as a whole.'
Not all critics of opera wished the genre simply to be abandoned in favour of more manly British entertainments, however. Some held out hope for reform of the genre, and among these Aaron Hill was surely one of the most active. Hill it was who in 1732 famously begged Handel to write operas in English, and so give the nation's music-lovers something they could truly understand. This plea undoubtedly was meant to recall to Handel his own collaboration with Hill on his first opera for London, Rinaldo. Rinaldo was the first Italian opera written specifically for an English audience (though Londoners were already familiar with the genre from Italian pasticcio and bilingual operas), and despite his use of Tasso's tinsel, Hill's adaptation of this story has grounding in contemporary indigenous theatrical practice, particularly the semi-opera. As Curtis Price has explained, the first audiences for Rinaldo would have recognised its similarity to George Granville's The British Enchanters (1706), which also featured a love-hate relationship between a sorceress and a hero and scenic parallels with other English operas. They would additionally have noted the description of Handel as the 'Orfeo del nostro Secolo' by Hill's co-author, Giacomo Rossi, and doubtless recalled the epithet then popularly attached to Purcell, the 'British Orpheus'. Possible political allusions (or at least political interpretations), reflecting the contention for the English throne between the Catholic pretender and Protestant Queen Anne, would also have been in keeping with English semi-opera.
Rinaldo belongs equally to the Continental tradition, however. In their use of an episode from a famous work, Hill and Rossi followed the standard practice of opera seria, which re-worked classic stories well known to the Latin- and Greek-educated aristocratic audiences. In such operas, it was the nuance given to the traditional version of a story that interested audiences (and that could then be given political interpretation). Appreciation of the subtlety of such nice variations no doubt helped shore up a sense of the opera as an exclusive, aristocratic club. This social context may help explain why the same stories (and often the same librettos) were set over and over again in the seventeenth and eighteenth centuries.
Perhaps more importantly, if audience members knew the story backwards, they could be freed from following the plot, and left to enjoy the music. While the stories of opera seria provide some sense of historical continuity, it's ironic that musical continuity or what we might think of as musical integrity is almost completely lacking. The singers' domination of the operatic stage meant that every new production of an opera had to be tailored to fit the needs and requirements of a new cast. So the 1731 revival of Rinaldo saw many arias transposed, or allocated to different characters, while Handel also took the opportunity to bring in popular songs from other of his operas, particularly Lotario and Partenope. How much violence he was doing to his 1711 original is arguable, given that the first Rinaldo had also featured large amounts of borrowed material. The audiences were appreciative, nonetheless.
Suzanne Aspden, Cambridge, September 2000